Richard "Kush" Griffith; to friends and fans, many know him simply as Kush. He played trumpet and arranged and recorded for a roster of artists including Buddy Miles, Marvin Gaye, the Jackson Five, the Commodores.
Kush's work and contributions to James Brown / JB's and Parliament / Funkadelic camps are certainly the most well known. Obviously the two influential funk units have a common thread, as William "Bootsy" Collins got his start in the JB's and brought several members over to P-Funk in the mid-seventies.
You likely know who those JB's are that joined P-Funk : the sax master Maceo Parker, and trombonist and arranger Fred Wesley. They shaped the funk with James Brown, and gave Parliament its punchy R&B horn sound on top of Bernie Worrell's spacey synths and Bootsy's bass thumps.
Fred and Maceo also brought Richard "Kush" Griffith along from the JB's into the P-Funk horn fold  … but Kush had actually been leading his own rhythm section at Motown, called Bottom & Company since he left the JB's with Maceo to form Maceo and All The Kings Men in 1970. You can hear Kush singing lead vocals on a Maceo and All The Kings Men track called "Don't Waste This World Away" which Kush also wrote.
He led Bottom & Company's LP, "Rock Bottom". Here you see him in the center of a Bottom & Company publicity photo had a good run from about 72 to 76 not only as its own unit, but as Motown house band. You can hear Kush's writing and playing on one of the group's funkier numbers "Do You Wanna Do a Thang"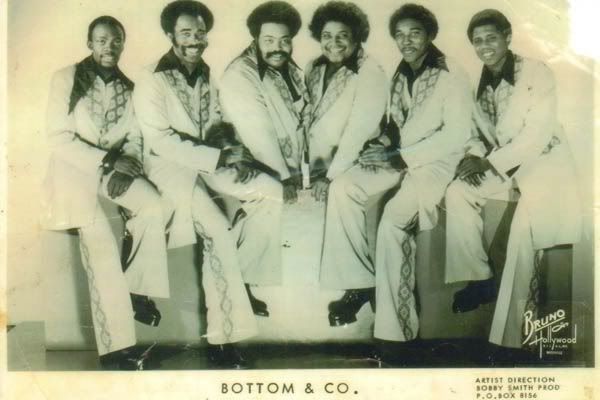 Kush first appeared as a member of P-Funk through Bootsy's Rubber Band 1977 effort "Ahhh … The Name is Bootsy Baby" and was on the Parliament album out that same year, "Funkentelechy and the Placebo Syndrome". He went on to be the bandleader of the Brides of Funkenstein in the P-Funk camp, and also of course George Clinton signed "Fred Wesley & The Horny Horns" to a deal with Atlantic; the band featured Fred, Maceo, Kush and the final member of the horn quartet is Rick Gardner who comes from the horn group Chase.
After the Horny Horns were no longer a part of the P-Funk touring camp, Kush went on to be part of Marvin Gaye's touring band. You can see Kush here in some in Marvin Gaye 1981 live footage, wearing a purple shirt and his signature P-Funk cap. Kush was the band leader about this same time for Buddy Miles' new band called the "Buddy Miles Regiment". Listen to the horn arrangements for the song "Working Harder Every Day" here which was part of a double LP from 1981 called "Sneak Attack".
Kush continued to work with Horny Horn mates Fred Wesley and Maceo Parker over the years, contributing to Wesley's work with the S.O.S. Band ("Take Your Time Do it Right") and then subsequently on a J.B.s reunion released in 2002 album called "Bring the Funk On Down". Kush sings lead vocals here on the lead track "Do the Do".
Franky "Kash" Waddy in 1999 connected Kush with Chuck Da Fonk Fishman which led to a fruitful collaborations in Denver based  bands Uncut and fONKSQUISh, both of which bands also helped Kush make a solo run which can be heard on Myspace. Despite Kush's failing health situation about 2006, he was determined to make music. He was a tour de force he was in the studio. Fortunately, while his health was getting even worse in 2006, a final album was completed for Kush, titled "Kush and His Blues Meet Funk Mediocre".
In 2006,  Kush was asked with his large catalog, what his 5 favorite tracks were from everything he participated in over the years.  His first choice was The S.O.S Band's "Take Your Time", which he played trumpets on with Fred Wesley on trombone.
For his James Brown years, Kush said his favorite contribution was to "Say It Loud (I'm Black and I'm Proud)." On "Ain't it Funky Now" you can hear Kush get called out by James for a solo.
For Parliament, Kush said its one song from the "Motor Booty Affair" album. It's "I'm a Fish (And You're a Water Sign)". It was written by Walter "Junie" Morrison, and Kush is also a credited writer on the song. Kush said George and Junie handed him the horn arrangement duties and the results are just so beautiful. Kush says he was very proud of the opening horn riff.
"Fred Wesley & The Horny Horns" are the LPs where Kush and his horny compatriots got to shine as the lead artists.  For the group's first LP, "A Blow for Me, A Toot to You", Kush insisted the title track the highlight of the album, and another of his favorites: "When in Doubt: Vamp".
In 2007, just before his passing he returned to Louisville, KY. That's his home, and the town he took off from when he joined the James Brown band in the late 60's.